Self Help
Where do I find FREE legal help or PRO BONO attorneys?
---
Attorneys from our network may take your case without paying upfront fees if your case involves an accident and you suffered bodily injuries or if you have an employment law related case such as wrongful termination, harassment or discrimination in the workplace. For all other types of cases, attorneys will charge reasonable legal fees. Related Articles:
To locate the nearest

SELF-HELP

center and

family law facilitator's

office near you, click here. You may be able to get free legal advice from the following agencies:

Probono Project

(408) 998-5298

San Diego Volunteer Lawyer Program

(619) 235-5656

Legal Aid Society of Los Angeles


(800) 250-5700



Community Legal Services


(310) 638-6194



Legal Aid Foundation Of Los Angeles

(562) 435-3501
(213) 640-3950
(213) 640-3881
(213) 640-3883
(310) 899-6200



LA County Public Defender's Office (For criminal matters only)


(323) 780-2064
(213) 974-2811
(323) 226-8998

Anaheim Outreach

(714) 571-5200
---
Do you take cases on contingency ?
---
Only personal injury cases (bodily injuries as result of accidents) and certain labor law cases may be accepted in a contingency basis. All other cases require a retainer fee payable up front to the attorney. NOTE: Sorry, no emotional injury or negligent infliction of emotional distress claims.
---
I have a civil rights case!
---
Unfortunatelly, we do not handle these type of claims.
---
I just need help filling out legal forms, can you help me?
---
Many legal forms are free and you can fill them out without hiring an attorney by answering a series of questions. Your answers are used to decide what kind of legal issue you have and what forms you need. You can also find the closest SELG-HELP office for assistance here.
---
I have a dispute under $10,000 and I need legal assistance, can you help?
---
You can resolve most disputes under $10,000 through your local small claims court without incurring in the expense of hiring an attorney. Small claims court is a special court where disputes are resolved quickly and inexpensively. The rules are simple and informal. The person who sues is called the plaintiff. The person who is sued is called the defendant. You are not allowed to have a lawyer represent you at the hearing in small claims court. But you can talk to a lawyer before or after court. Here you will find advisors in your area who can help you free of charge.
---
I have a traffic ticket!
---
Our attorneys only handle misdemeanor or felony traffic cases, if you have a minor violation such as a traffic ticket you can find free reference material here.
---
I have a medical / dental malpractice case!
---
The California medical malpractice statute of limitations is one to three years (depending upon when the injury was discovered). 1000Attorneys.com does not handle malpractice law. However, you can lodge a complaint about your issue through the Medical Board of California.
---
Can I sue a county or government agency?
---
City, county, and state governments can be held liable in lawsuits the same as private citizens; however, the process regarding suing a county or city in California is far different and more complex than suing a person. Unfortunately, we do not handle these type of cases.
---
Are there any online legal chats available?
---
Yes, you can chat live with law librarians throughout California here. This service is available: Monday 8 a.m.- 5 p.m. & 6p.m.- 8 p.m. Tuesday - Thursday 8 a.m. - 6 p.m. Friday 8 a.m. - 5 p.m. Participating Libraries
Bernard E. Witkin California State Law Library
Fresno County Law Library
LA Law Library
Orange County Public Law Library
Placer County Law Library
Riverside County Law Library
Sacramento County Public Law Library
San Bernardino County Law Library
San Diego County Public Law Library
San Francisco Law Library
---
I have been a victim of fraud, how can I report a business?
---
If you have been a victim of a fraud or scam, you must immediately report your case to the California Department of Consumer Affairs.
---
How do I lodge a complaint about an attorney?
---
If you need to file a complaint about an attorney outside our network, please call the State Bar's ethics line at (800) 843-9053 In the unlikely event that we referred you to an attorney and he or she acted inappropriately, please contact us immediately in writing via email. Your complaint will be reviewed by our ethics committee.
---
How do I check a lawyer's credentials?
---
At 1000attorneys.com, we check credentials, background, licenses, disciplinary records, degrees and performance of each one of our members. However, if you are considering hiring an attorney outside of our pre-screened lawyer network, we recommend to verify the lawyers credentials first. To do this, simply visit the State Bar of California's website where you will find a lawyer lookup tool. You can easily check a lawyer with his or her bar number or by name.
---
What's a mediation program?
---
Mediation programs provide an alternative method of resolving complaints without having to go to court. Through the mediation process, the individuals involved in a dispute work out their own solutions with the help of a mediator. The mediator does not enforce a decision on the individuals, but helps guide them in reaching a solution. Since the individuals involved in the dispute play active roles in resolving the dispute, they usually are comfortable and supportive of the solution. Successful mediations often result in written agreements that are signed by both individuals in a dispute. If the parties do not reach a mutually agreeable solution, either or both of the parties may still file a court action. Mediation procedures are voluntary, and usually take place in one or more sessions. Mediators usually are either trained, volunteer nonlawyers who reside in the community, or are paid individuals with backgrounds in law, psychology, or counseling. The mediator's role is to work with both parties in a dispute to identify the issues, reduce misunderstandings, clarify priorities, vent emotions, find points of agreement, explore new areas of compromise, and negotiate an agreement. For more information about programs in your area, contact a local consumer agency or small claims court advisor. Local mediation programs available in California are listed below. LOS ANGELES Arts Arbitration and Mediation Services (AAMS)
a program of California Lawyers for the Arts (CLA)
Rebecca Ruschell, Associate Director
Alma Robinson (SF), Executive Director
12304 Santa Monica Blvd., Suite 304
Los Angeles, CA 90025
TEL: (310) 207-0001
losangeles@calawyersforthearts.org Asian Pacific American Dispute Resolution Center
Charles Chang, Executive Director
1145 Wilshire Boulevard
Los Angeles, CA 90017
TEL: (213) 250-8190
FAX: (213) 250-8195 California Academy of Mediation Professionals
Wendy Wright, Director
16501 Ventura Blvd., Suite 606
Encino, CA 91436
TEL: (818) 377-7250
FAX: (818) 784-1836 California Conference for Equality and Justice
Danielle Nava or Jose Gutierrez
444 West Ocean Blvd, Suite 940
Long Beach, CA 90802
TEL: (562) 435-8184
FAX: (562) 435-8318 Center for Civic Mediation
Andrew Culberson, Director
1055 West 7th Street, 27th Floor
Los Angeles, CA 90017
TEL: (213) 896-6533 Center for Conflict Resolution
Chris Welch, Director
7806 Reseda Blvd.
Reseda, CA 91355
TEL: (818) 705-1090 or
(800) 572-9017 Centinela Youth Services
Jessica Ellis, Director
11539 Hawthorne Blvd., Suite 500
Hawthorne, CA 90250
TEL: (310) 970-7702
FAX: (310) 675-2300 City of Norwalk, Dispute Resolution Program
Veronica Garcia, Supervisor
11929 Alondra Blvd.
Norwalk, CA 90650
TEL: (562) 929-5603
FAX: (562) 929-5515 Korean American Coalition, 4.29 Center
Chris Lee, Executive Director
3727 W. 6th St., Suite 515
TEL: (213) 383-4290 Los Angeles County Department of Consumer Affairs
Caroline Torosis
500 West Temple Street, Room B96
Los Angeles, CA 90012
TEL: (818) 705-1090 or
(213) 974-9415 The Loyola Law School Center for Conflict Resolution
Mary Culbert, Director
800 South Figueroa Street, Suite 1140
Los Angeles, CA 90017
TEL: (213) 736-1145 Office of the Los Angeles City Attorney
Dispute Resolution Program
200 North Spring Street, 14th Floor
Los Angeles, CA 90012
(213) 978-1880 ORANGE Orange County Human Relations Council
1300 S Grand Avenue, Building B
Santa Ana, CA 92705
TEL: (714) 834-7198
FAX: (714) 567-7474 SAN DIEGO National Conflict Resolution Center
Steven P. Dinkin, President
625 Broadway Street, Suite 1221
San Diego, CA 92101-5419
TEL: (619) 238-2400
FAX: (619) 238-8041 North County Lifeline
Karen Thompson, Dispute Resolution Project Director
200 Michigan Avenue
Vista, CA 92084
TEL: (760) 726-4900
FAX: (760) 631-0778 SAN BERNARDINO 1500 South Haven Avenue, Suite 100
Ontario, CA 91761
TEL: (909) 984-2254
TOLL FREE (800) 321-0911
FAX: (909) 460-0274 VENTURA Office of the District Attorney
Consumer Mediation Section
Robin Estes, Supervisor
5720 Ralston Street, Suite 300
Ventura, CA 93003
TEL: (805) 654-3110
FAX: (805) 648-9255 Conflict Resolution Institute
Shinina Butler, Executive Director
555 Airport Way, Suite D
Camarillo, California 93010
TEL: (805) 384-1313,
FAX: (805) 384-1333
EMAIL:info@conflictresolutionvc.org RIVERSIDE Riverside County Executive Office
4080 Lemon Street, Fourth Floor
Attn: Alternate Dispute Resolution Program
Riverside, CA 92501
TEL: (951) 955-1110
FAX: (951) 955-1105
---
No one wants to take my case, why?
---
People often think that a lawyer will take any kind of case just to make a buck. That is not the case at all. Every lawyer has his or her own standards and reasons for why they make take one case and not another. Here are the top 7 reasons why a lawyer won't take your case: 1. THERE IS NO MONEY TO BE MADE IN YOUR CASE
There is a real cost associated with trying a case. For a lawyer to take a case, the case needs to have the potential to recover more money than the lawyer will have to invest to try the case. Depending upon the type of case, a lawyer may easily have to invest $50,000-$100,000 (or more) in pursuing a case. The more experienced and successful the attorney, the higher that number becomes. Such costs may involve product testing, the expense of obtaining expert witnesses, and many other potential costs. Additionally, the cost of developing the testimony to prove up your case has to be factored into the analysis of the attorney. If the cost of the expected depositions exceeds the expected return on the case, an attorney most likely will not accept the case. If a lawyer doesn't take your case, you can get a second opinion from another lawyer who has taken cases similar to yours. But be cautious in this approach because of the next reason why a lawyer may not take your case: 2. OTHER LAWYERS HAVE REJECTED YOUR CASE
If your case has been repeatedly "released" or "dropped" from another law firm, subsequent attorneys will think twice about taking your case from either a liability perspective or an unreasonable expectation perspective. Often times, many cases are turned down because the potential client appears to be shopping around for a lawyer based upon the feedback they receive on the potential value of the case. Even though it is crucial and recommended to be selective in choosing a lawyer, it's important that you focus on whether or not the lawyer in question has expertise and a history of winning the type of case you're involved in. If it's clear you're just shopping around for the best payout, a lawyer may not waste their time with you. 3. THE STATUTE OF LIMITATIONS HAS EXPIRED
A statute of limitations is a law which sets the maximum time you have to initiate legal proceedings from the date of an alleged offense, whether civil or criminal. The length of time the statute allows for a victim to bring legal action against the suspected wrong-doer can vary from one state or jurisdiction to another. In general, the time allowed under a statute of limitations varies depending upon the nature of the offense. In most cases, statutes of limitations apply to civil cases. For example, in some states, the statute of limitations on personal injury claims is two years, so that means you have two years to sue for a personal injury case. If you wait so much as one day over the two-year deadline, you can no longer sue for a personal injury. 4. YOU HAVE A WEAK CASE
One of the questions you should always ask in a consultation with a firm is, "How strong is my case?" If a firm doesn't think you have a strong case, they certainly don't want to add a loss to their record. Lawyers have an interest to protect their own reputations since a strong reputation will draw in more clients, just as a weak reputation will do exactly the opposite. In personal injury cases, how badly you're injured is an important factor in a case. If your injuries are minor, an attorney may pass on your case because the expected monetary compensation will also be minimal. 5. THERE IS A CONFLICT OF INTERESTS
Lawyers have an ethical duty to not represent clients who may have adverse interests. Conversely, if a lawyer is related (professionally or by blood) to a party in your case, that can also be seen as a conflict of interest. 6. THEY DON'T SPECIALIZE IN THAT TYPE OF CASE
Say you've been injured in a case of medical malpractice. Not all personal injury attorneys specialize in medical malpractice injuries. Oftentimes, you'll see that personal injury lawyers specialize in a very specific type of injury case, such as car and truck accident cases. Some may only handle product liability cases, and some may only handle oil field injury cases. If you have strong rapport with the lawyer you're speaking to but he or she doesn't specialize in your specific type of case, ask for a referral. Chances are high that they'll be able to refer you to a lawyer who does have experience in your type of case. 7. THEY DON'T LIKE YOU
A lawyer is never obligated to take your case. Taking on a new client means starting a new working relationship – and relationships are a two-way street. If you're perceived to be difficult to work with, obnoxious, or abrasive, then they may choose to pass on your case. In fact, if you're difficult to work with and a lawyer is still desperate to take your case, you may need to take a look at that lawyer's record of winning cases like yours. Chances are, his or her win record isn't that strong. Beggars can't be choosers – and that goes both ways.
---
---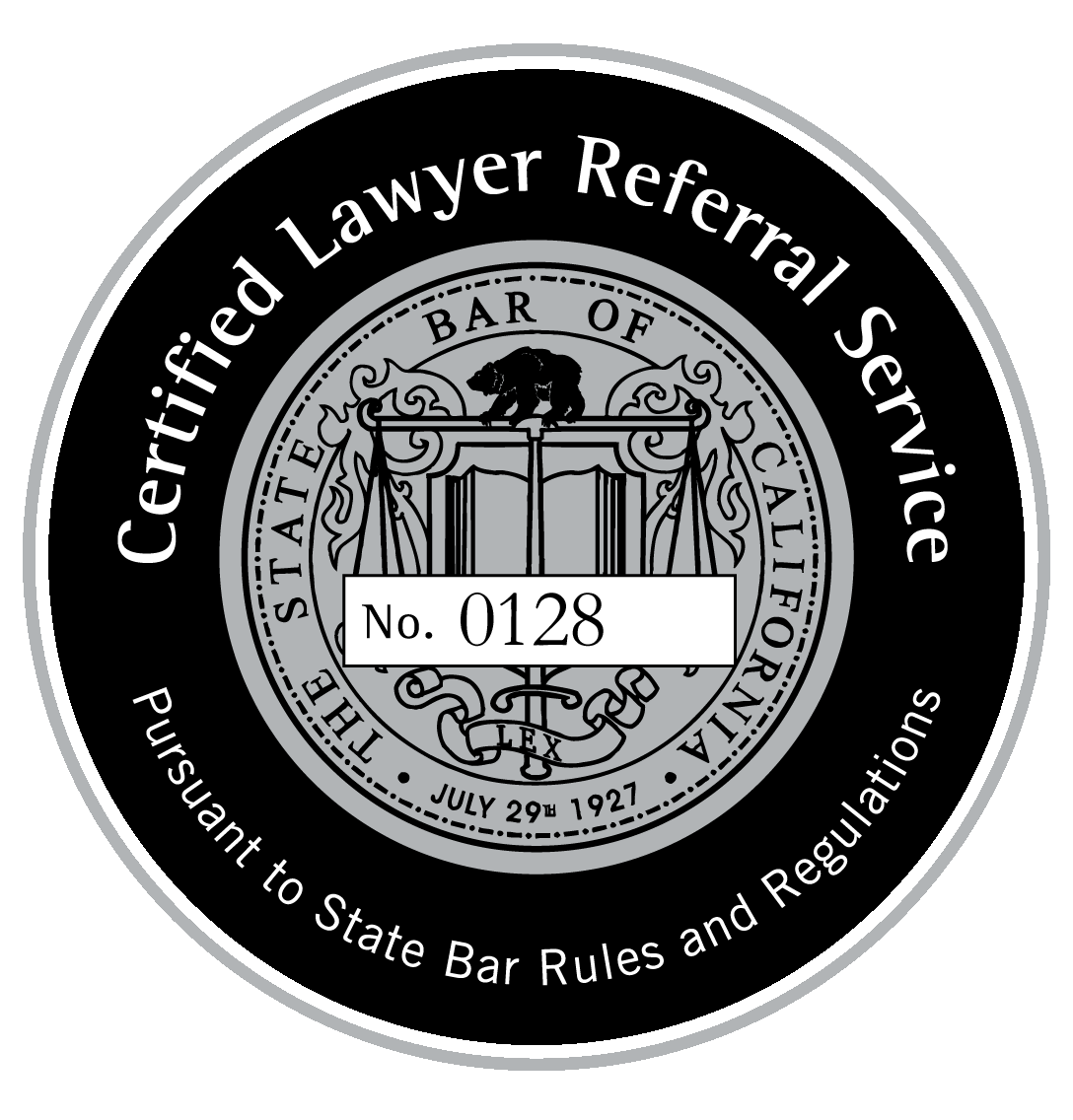 California Lawyer Referral Service
​
1000Attorneys.com is a California Bar Certified Lawyer Referral and Information Service.
This is a public service that helps members of the public to find a competent and pre-screened lawyer and receive general knowledge about common legal issues.
Accessing information via our site is not expensive and there is no charge to get a referral to an attorney or for legal consultations.
​
Our History

Established in 2005, 1000Attorneys.com Lawyer Referral Service is the fastest growing lawyer referral service in California.
Members of the public have turned to the 1000Attorneys.com as a reliable resource for more than 15 years to locate California lawyers and for general knowledge on legal issues.
​
How the LRS Works

Via the 1000Attorneys.com portal, the public will find a competent California attorney. Lawyer referrals are available in English and Spanish.
Clients are referred to an attorney who is competent to handle the case after having some fundamental knowledge about a case. A free 30 minute consultation with the attorney will be offered to each referred client.
​
Hundreds of articles on common legal issues, in English and Spanish, can also be obtained by the public via our blog. These pieces of information address a wide variety of legal issues in Southern California.
​
A LRS representative will contact the client from time to time after receiving a referral, either by phone or mail for quality management purposes, or to obtain basic information about the status of your case.
​
About our network of lawyers

Lawyers in our network charge fair legal fees. Free, pro bono legal services are not offered by LRS lawyers.
Each LRS attorney has shown that he or she is eligible in a specific field of law practice and has met several requirements of certification.
In just about every field of law practice, and in many different language and location requirements, the LRS can refer clients to an honest and reputable California attorney.
​
How to find the best lawyer for your legal case:
​
1. The fastest way to have your legal issue reviewed by one of our attorneys is to send your details online. Your information will go directly to our 24 hour legal department. You will get a reply via email within 15 minutes.
​
2. You may also inquire about your legal issue via chat where you can get more information related to different areas of law that apply to your case.
​
3. By calling our lawyer referral hotline 661-310-7999. Our agents are not attorneys and cannot provide legal advise. Due to high call volumes, it's highly recommend that you use option # 1 above.