Find Top California

Employment




Lawyers Near You
If you believe you have been the victim of discrimination or retaliation in the workplace, you should contact an experienced California employment law attorney. An attorney can help you understand your rights and options and assist you in taking legal action if necessary.
Los Angeles Employment Lawyer Referrals
Finding the Right California Employment Lawyer Can Be A Daunting Task
​
When your employer violates your employee rights, it can feel like your sense well-being and respect have been violated. 1000Attorneys.com has long tracking record of helping California employees by matching them with the right employment lawyer in Los Angeles.
​
Request a FREE case review and a referral to a pre-screened California employment attorney 24 hours a day. We will reply within 15 minutes and let you know if you have a viable case.
Employment lawyers from our network fight for employees who have been affected by all types of employee rights violations, including wrongful termination, failure to pay wages and commissions, discrimination in the workplace, pregnancy and maternity discrimination, harassment, and retaliation.
​
"California employment law protects the rights of employees and gives you the right to be compensated for damages and put a stop to abusive employment practices."
Finding the right employment lawyer in Los Angeles is equally frustrating as hundreds of employment lawyers advertise their services claiming to be the best choice.
1000Attorneys.com is a California State Bar certified and approved lawyer referral and information service. Since 2005, our team has helped thousands of employees find the right employment lawyer in Los Angeles for their case. We take into account your particular set of circumstances, your location and where your claim must be filed to match you with the best employment lawyer.
​
Referrals to employment lawyers in Los Angeles and personal legal consultations are FREE. Moreover, we'll provide you with an impartial and unbiased referral to a great employment lawyer who can start working on your case immediately.
California Employment Law
​
It is illegal in Los Angeles, California to be unfairly fired from your work without a legitimate cause. If you feel that you've been wrongfully terminated due to race, religion, gender, sexual orientation, disability, or age discrimination, you must seek legal advice as soon as possible from an employment lawyer.
Wrongful termination is a serious offense that violates California employment law and should not be ignored. We work with top employment lawyers in Los Angeles who have many years of experience in wrongful termination cases, discrimination in the workplace, whistleblowing retaliation, harassment, and many other employee rights violations and employment law litigation claims.
Unlike many websites from lawyers who claim to be the best employment lawyers in Los Angeles, this lawyer referral service is approved and certified by the California State Bar to provide referrals to employment lawyers with a proven track record of excellent service and performance in Los Angeles courts.
You can be confident that you'll work with the best employment lawyers in Los Angeles because they have carefully been selected and are always monitored for performance, reviews, credentials, and ethics. We accept most employment-related cases on contingency; you will only pay legal fees until your case settles in your favor.
Common Employment Law Cases in Los Angeles
Filing an employment claim in Los Angeles, California promptly will make a difference in the outcome of your case. Speak to a pre-screened employment lawyer in Los Angeles now about your case during a FREE and personal, no-obligation legal consultation.
New California Employment Laws For 2022 - 2023
​
California adopted new employment laws in 2020 that further protect employees' rights. These new employment laws became effective on January 1, 2020.
​
AB 25 – Employees' Personal Information
​
The law exempts any individuals "acting as employment applicant to, anyone related to that business." Therefore, employers have one additional year to suit the wants of the CCPA concerning applicants' and employees' information.
AB 25 was passed to help in clarifying some aspects of the CCPA. The law was passed in 2018 and is supposed to offer "consumers" certain knowledge about what data companies are collecting about them, and therefore the right to request that the info be deleted, in addition to other rights.
​
AB 749 – Ban on No-Rehire Provisions
​
This new law doesn't allow any provisions in settlement agreements entered into on or after January 1, 2020, that prevent employees from getting future employment opportunities with the settling company or its affiliates. The law applies to any employees who have filed a claim:
Against the employer in court,

Before an administrative agency,

In an alternate dispute resolution forum, or

Through the employer's internal complaint process.
Therefore, if the worker has complained internally, and an agreement is reached with the worker with no litigation being filed, the employer would still be restricted from placing a no-rehire provision within the agreement.
The law doesn't prohibit or otherwise restrict an employer from preventing an employee from obtaining future employment if the employer has made an honest faith determination that the person engaged in harassment or sexual abuse.
​
SB 142 – Lactation Accommodation
​
SB 142 expands an employer's duties and responsibilities in providing lactation accommodation to those employees who got to express breast milk. This bill mandates employers to supply a lactation room or location, not a toilet, that:
Is close to the employee's work area;

Shielded from view;

Free from intrusion while the worker is expressing milk;

Safe, clean and freed from hazardous materials;

Contains a surface to put a breast pump and private items;

Contains an area to sit; Has access to electricity; and,

The employer must allow access to a sink with clean running water and a fridge for storing milk near the employee's working space.
​
Moreover, the bill requires companies to enforce a lactation policy. Such lactation policy must include, among other things, a press release about an employee's right to request lactation accommodation and a press release about an employee's right to file a complaint with the Labor Commissioner for an employer's failure to supply the accommodation.
The bill equates a denial of lactation break time or space to a violation of a respite, thus subjecting the employer to a $100 penalty per violation. Employers with less than 50 employees that show this law would impose an undue hardship on their employees and could also be exempted from SB 142's requirements.
​
SB 188 – Hairstyle Discrimination
​
SB 188 further protects employees by expanding the Fair Employment and Housing Act's definition of race to include traits historically related to race, like hair texture and protective hairstyles and trends. The law prohibits a company's policies that prohibit natural hair, including hairstyles such as afros, braids, twists, and locks.
​
SB 707 – Arbitration Agreements Fees and Costs
​
SB 707 provides that an employer's failure to pay costs and costs related to arbitration within 30 days of the maturity would breach the arbitration agreement, thereby waiving the proper to compel arbitration.
The bill provides that the worker would, in turn, be ready to withdraw the claim from arbitration and prosecute his or her claim in court.
​
If you need to have a confidential consultation with a pre-screened California employment lawyer, you can submit your request 24 hours a day here.
​
Occupational safety and health
​
Occupational Safety and Health Division (DOSH)

Through its Cal/OSHA service, DOSH protects employees from safety risks and provides employers with consultative assistance. The Division of Occupational Safety and Health (DOSH) has two primary units dedicated to conducting inspections to protect the public from safety risks, in addition to maintaining secure and healthy working conditions: the Elevator and Ride and Tramway Unit perform elevator public safety inspections, amusement rides, both portable and permanent, and aerial passenger trams or ski lifts. Public safety checks of boilers, air and liquid storage tanks, and other types of pressure vessels are performed by the Pressure Vessel Unit.
​
Consultation Facilities from Cal/OSHA

Provides employers and employees with occupational safety and health assistance through on-site assistance and special focus initiatives and publishes a broad range of educational materials on safety and health problems in the workplace.
​
Board of Ethics for Occupational Safety and Health (OSHSB)

OSHSB, a seven-member body appointed by the Governor, adopts safety and health principles, providing the basis for implementing Cal/OSHA.
​
Appeals Board for Occupational Safety and Health (Cal/OSH App)

The Board of Appeals is a three-member, quasi-judicial body appointed by the Governor and confirmed by the Senate to manage Cal/OSHA citation appeals by employers.
​
Health and Safety and Workers Compensation Board

CHSWC is a joint labor relations agency founded by the 1993 workers' compensation reform law and is responsible for overseeing California's health and safety and workers' compensation programs and proposing administrative or legislative reforms to strengthen their operation.
​
California employment law-related frequently asked questions
​
When should you seek a California employment lawyer?
You should contact an employment attorney in Los Angeles if you experience any of the following situations: You have been harassed, discriminated against, or retaliated against by your employer. You were terminated or fired from employment, and the termination was illegal. You are being forced to sign an agreement waiving rights you are entitled to.
​
What does a California employment lawyer cost?
A California employment lawyer can charge on an hourly rate, fixed fees or a retainer. An hourly rate can be quite expensive, ranging from $300 to $600 per hour, depending on the lawyer's experience and the matter's complexity. Employment lawyers in California will accept most employment-related cases on contingency; this means you don't have to pay anything upfront.
​
What kind of attorney do I need for work-related issues in California?
If you are an employee in California and find yourself involved in an employment dispute or face a negative or adverse action by your employer, a California employment lawyer can help. Employment lawyers protect the rights of employees and determine violations of federal and state anti-discrimination and harassment laws and employment agreements.
​
Can an employment lawyer in Los Angeles get your job back?
No employment lawyer in California can get you your job back if you just decided to quit because you were no longer satisfied with your position. However, if your employer treated you unfairly to the point that no reasonable person could have been expected to tolerate such abuse, you may be able to sue on the grounds of "constructive discharge."
​
Can I sue my employer in California for emotional distress?
You can for Negligent Infliction of Emotional Distress (NIED). With this type of emotional distress, you could sue if your employer in California acted negligently or violated the duty of care to not cause severe emotional stress in the workplace.
​
Can I bring an employment lawyer to an HR meeting?
The law doesn't require you to bring an employment lawyer to an HT meeting. This means that while an employer can decide to allow you to bring an employment lawyer to a meeting; you will generally have no right to bring one.
​
Can I sue my employer in California without a lawyer?
Yes, it is possible to file a lawsuit without an employment lawyer. Once you have figured out what kind of case you can file against your employer, you will need to prepare your legal documents and file your lawsuit. You can often obtain all the forms you need for your lawsuit from either the clerk of court or local law libraries.
​
What kind of attorney handles wrongful termination in California?
Wrongful termination usually involves a breach of federal, state, or local employment laws, so it's best to work with an employment attorney specializing in California labor law. Most wrongful termination cases are settled outside of court, but large cases with significant damages can go to trial.
​
Can my employer in California fire me for getting hurt on the job?
Your employer in California cannot legally fire an injured worker for filing a workers' compensation claim. Employees in California deserve fair treatment and compensation after a workplace injury. If you've been fired, denied benefits, or harassed because of an on-the-job injury, contact an experienced workers' comp attorney.
​
Is it worth suing your employer?
If you sue your employer, it won't be enough for you to prove that your employer violated any labor laws. If you don't have a valid legal claim against your employer, then you will ultimately lose your case. One big reason to think twice before you sue. It's always a good idea to consult with an employment lawyer to determine if you have a viable case.
​
When can you sue your employer?
​
Illegal Termination.

Deducting Pay.

Personal Injuries.

Employee Discrimination.

Sexual and Workplace Harassment.

Retaliation.

Defamation.

Any type of discrimination in the workplace
​
How do I sue for unfair treatment at work?
If you're a discrimination or harassment victim in California, you can file a lawsuit against your employer. If the discrimination you experienced at work violates federal law, you must first file a charge with the EEOC. (This isn't the case for unequal pay between men and women.) You may decide to sue if the EEOC can't help you.
​
Can I sue my employer for firing me under false accusations?
If you have an employment contract for a particular term or length of time, or a contract stating that "good cause" is needed to fire you, you can sue for breach of contract if you were fired for reasons that were petty, trivial, unfair, untrue or fabricated.
​
Can you lose your job due to injury?
The short answer is no. Under Section 132a of the California Workers' Compensation Code, it is illegal for an employer in California to terminate an employee because of an injury in the workplace.
​
Does filing workers comp affect future employment?
As long as you do not engage in defamation against your former employer, a previous workers' compensation claim should not impact your ability to be hired again in the future.
​
What are my rights if I am injured at work?
You can file a claim for your injury or illness in workers' compensation court. You also have the right to see a doctor and for medical treatment. if you are released to return to work by your primary physician, you have the right to return to your regular job duties and position.
​
Can I sue my employer if I'm fired for being sick?
It is illegal to fire or discipline an employee in California for taking leave that FMLA protects. For example, if you were out sick for a serious health condition as defined by the FMLA, and your employer terminated your employment because of it, you have a legal claim for wrongful termination.
​
Can I be recorded at work without my permission in California?
Generally, employers in California are not allowed to listen to or record conversations of their employees without the permission of all parties involved. The Electronic Communications Privacy Act (ECPA) allows employers in California to listen in on business calls but are not allowed to record or listen to private conversations in the workplace.
​
What is considered an unhealthy work environment?
An unhealthy working environment in California is characterized by ineffective or negative communication, unprofessional, illegal, or dishonest behavior, punitive practices or policies, and/or strained relationships between employees and management staff.
​
Articles related to California employment law:
​​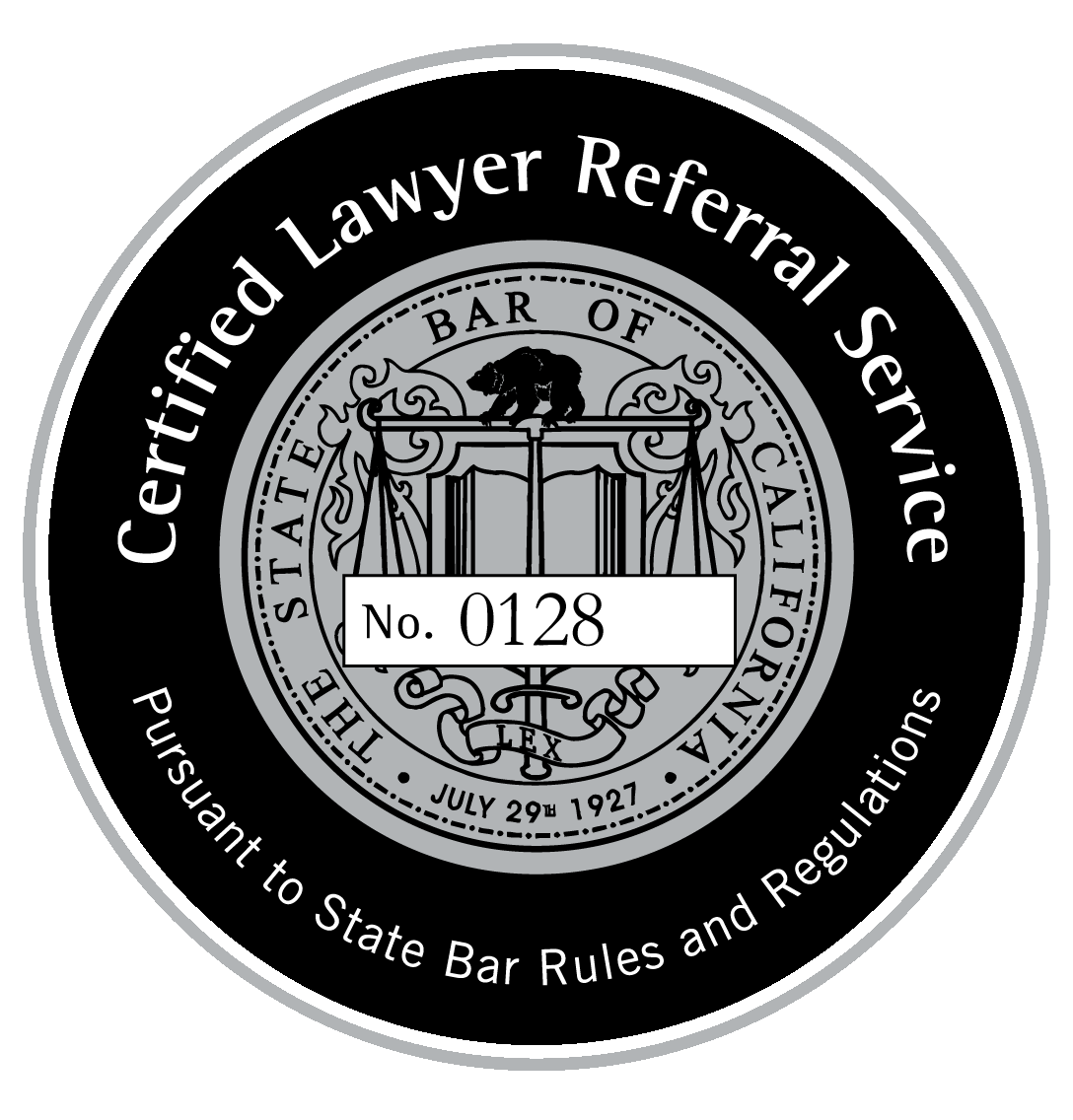 California Lawyer Referral Service
​
1000Attorneys.com is a California Bar Certified Lawyer Referral and Information Service.
This is a public service that helps members of the public to find competent, and honest employment lawyers who specialize in California employee rights law.
​
Why You Need To Hire
Pre-Screened California Employment Lawyers
The California State Bar investigates in average 16,000 complaints of professional misconduct by attorneys every year.
​
We conduct due diligence by verifying experience, credentials, professional responsibility, and ethical standards.
We also run criminal background checks on every lawyer. Visit our

attorney discipline

section for more information.
​
California Employment Law News
Gov. Gavin Newsom of California
signed a trio of new labor laws
aligned with COVID-19.
The new 2021 California employment laws are:
(1) require employers with 500 +
workers and health care employers
with less than 500 employees to
provide their California employees
with up to 80 hours of additional
paid sick leave due to COVID-19;
(2) establish a presumption that the
COVID-19 related illnesses or deaths
of employees are protected in
some circumstances by accidents
for employee compensation purposes; and create new notice and
(3) record keeping requirements
with respect to COVID-19
​
Deductions from salary
An employer in California can not withhold or deduct compensation from an employee's paycheck unless:
By state or federal law, necessary or empowered to do so,
​
A deduction is expressly allowed in writing by the employee to cover insurance premiums, contributions to the compensation plan, or other deductions that do not amount to a pay rebate or cover insurance premiums.
​
A salary or collective bargaining agreement expressly authorizes a deduction to cover health, welfare, or pension payments.
CA Labor Code Sections 221 and 224
An employer does not subtract from an employee's salary any of the following:
Any part of gratuities from an employee. Labor Code of CA Section 351;
​
The cost of any photograph that the employer needs of an applicant or employee. CA Code of Labor Section 401;
​
The cost of a bond that an employer needs from an applicant or employee. CA Code of Labor Section 401;
​
If the employee consented in writing to have the uniform's cost removed from their last paycheck if it was not returned to the employer, the price of a uniform needed to be worn by the employee. CA Labor Code Section 2802, Commission Instructions on Industrial Health, Section 9. Wearing clothing of distinctive design and color are part of the term "uniform."
​
Except for employees who earn two times (2X) the minimum wage, the cost of tools or equipment needed to be used by an employee. CA Labor Code Section 2802, Industrial Welfare Commission Orders, Section 9;
​
Expenditures or damages sustained as a direct result of the discharge of the job duties of the employee. Section2802 of the CA Labor Code;
​
The expense of any medical or physical pre-employment test taken as an employment condition or any medical or physical examination needed by any federal or state statute or regulation or municipal ordinance. Division 222.55 of the CA Labor Code
California courts have also significantly limited the right of an employer to take an offset against the wages of an employee.
Barnhill v. Sanders, 125 Cal.App.3d 1 (1981) (it is unconstitutional for an employer to subtract a balloon payment from the final paycheck of an employee to repay the debt of the employee to the employer even though the employee has approved the settlement in writing);
CSEA VS. The State of California, 198 Cal.App.3d 374 (1988) (it is against the law to deduct past wage advances that were in error from the wages of an employee);
Los Angeles Employment Law Blog