Open 24 Hours.
Get An Answer Within 15 Minutes.
Affordable And Fair Legal Fees. Payments Plans Also Available
Lawyer Referrals Available For Most Areas Of Law In California
We'll Find The Best Local California Attorney For Your Legal Case
Irvine Legal Resources
​
Irvine's Court System Information

Irvine Police Department works with various courts to handle the needs of our citizens. Our jurisdictional court is Harbor Justice Center.
Harbor Justice Center, Newport Beach Facility is located at 4601 Jamboree Road, Newport Beach, 92660-2595. To contact the Harbor Justice Center, call 657-622-5400
​
Lamoreaux Justice Center hears both criminal and civil cases brought against minors and other cases involving families, including petitions for custody and support. For more information, call 657-622-5500 or click this page for more information.
​
Dissolution of Marriage-Divorce
For Dissolution of Marriage (Divorce), contact the Family Law Court, Superior Court of California, Orange County located at Orange County Superior Court, Lamoreaux Justice Center, 341 The City Drive, 7th Floor, Orange, 92868

Jury Duty
Jury Services take place at the Superior Court of California, County of Orange, and may be contacted by mail at: Superior Court of California, County of Orange, Jury Services, PO BOX 1970, Santa Ana, CA 92702-1970.
​
Legal Aid
The Legal Aid Society of Orange County (LASOC) provides free legal and tax-related services to eligible individuals who reside in Orange County. Specific service criteria vary by subject matter and change over time, so please contact LASOC with specific questions.
​
If you have a personal injury or employment law related matter, you can submit your case here.

For more information, contact The Legal Aid Society of Orange County at 2101 North Tustin Avenue, Santa Ana, 92705, call 800-834-5001 or 714-571-5200
​
Probate Court
The Orange County Superior Court is a trial court that operates in seven court facilities throughout Orange County. The Court handles matters that include Probate/Mental Health. The Probate/Mental Health Court is located at Orange County Superior Court, Lamoreaux Justice Center, 341 The City Drive, Orange, 92868
​
Sheriff's Office
The Orange County Sheriff's (County of Orange) Administrative Offices are located at 550 North Flower St., Santa Ana, 92703.
For information call 714-647-7000
​
Small Claims Court
The Harbor Justice Center, Laguna Hills Facility (The Superior Court of California, Orange County), serves Irvine and surrounding cities for Small Claims Court.
The Harbor Justice Center is located at 23141 Moulton Parkway, Laguna Hills, 92653-1251. The Small Claims Court may be contacted at 657-622-8671.
The general information number for the Harbor Justice Center is 657-622-5700.
Subpoenas
Subpoenas for records and information are served to the City Clerk's Office, located on the third floor of City Hall, and processed by the Office of Records and Information. For more information, call 949-724-6205.
​
Traffic Court
If you received a citation in Irvine, Traffic Court is conducted at Harbor Justice Center (Newport Beach Facility), located at 4601 Jamboree Road, Newport Beach, 92660-2595. For more information, call 877-872-2122.
​
​
​
Unfortunately, many lawyers in California have been disciplined for illegal and malicious actions. Since legal claims can significantly impact your life, you want someone you can trust.
​
Our Irvine, CA attorneys are prescreened for experience and excellent track records. So not only are you getting referrals from trusted attorneys, but we're matching you up with someone with the right expertise to handle your specific legal claim.
​
​
You need the best employment attorney in Irvine who really wants to help California employees fight for their rights at work. Employment lawyers in Irvine will help employees who are having problems at work, and will focus on wrongful termination, discrimination, whistleblowing, harassment, and retaliation.
Our Employment & Labor Lawyers in Irvine, CA have assisted clients in various labor law claims. The most common cases we get include:

That said, each client's case is unique. Therefore, regardless of your labor law concerns, we can match you up with Irvine Employment Lawyers best fit to handle your employment claims.
​
​
Were you injured? You can recover compensation for your financial, emotional, and physical damages. Our California Personal Injury Lawyers have handled an extensive array of personal injury claims, including:

​
​
Ready to get legal advice? Fill out our case review form to start talking to prescreened, top-rated attorneys in Irvine, CA.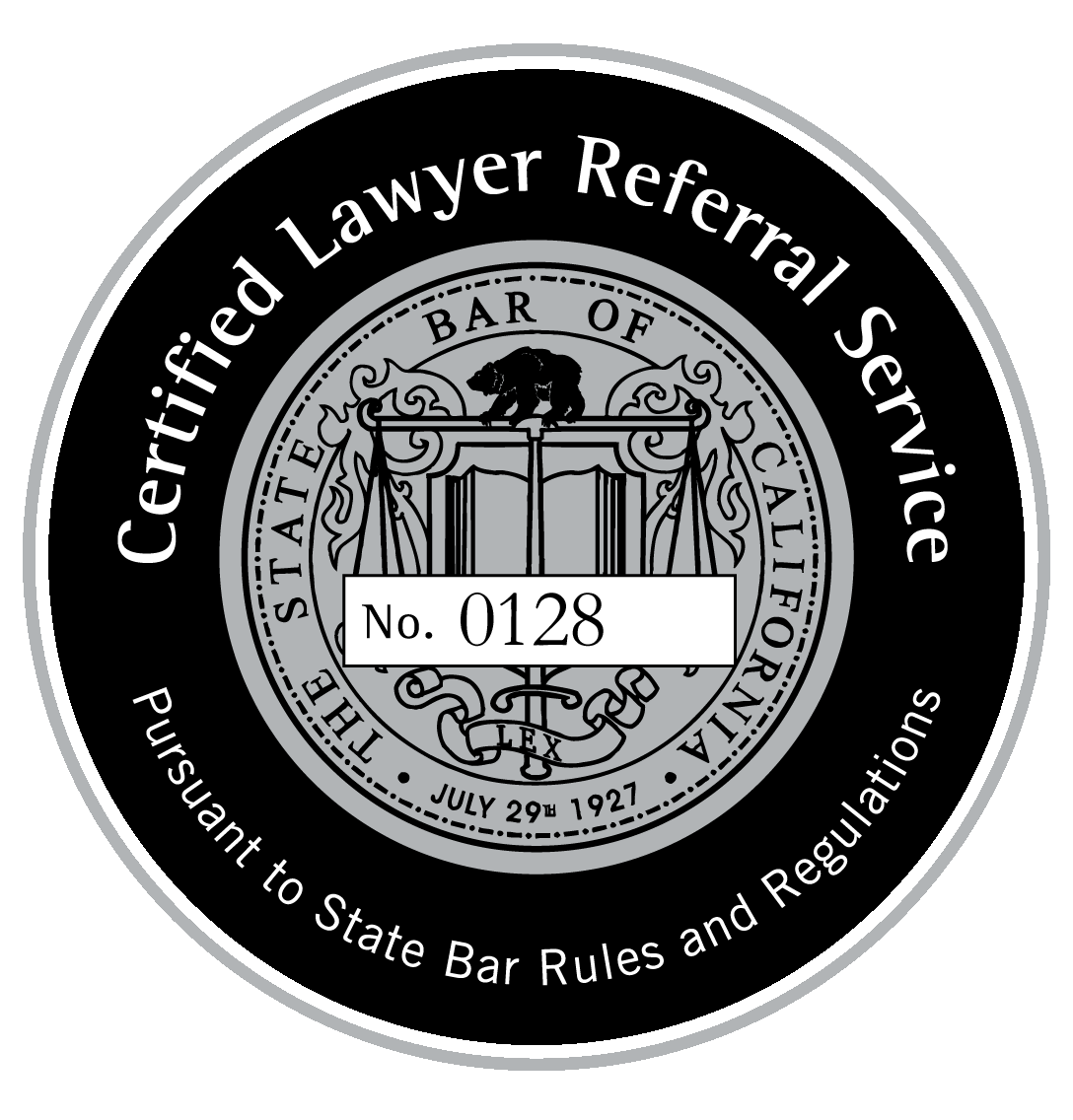 California State Bar Certified Irvine Lawyer Referral Service
1000Attorneys.com is a California State Bar Certified and approved Lawyer Referral and Information Service.
​
We provide unbiased and impartial lawyer referrals. This service isn't owned nor operated by lawyers receiving. referrals.
Our objective is that you receive the best comprehensive, high-quality legal representation while holding California attorneys to the highest standards of professional conduct.​​
​
Why Lawyer Referrals Matter
The California State Bar investigates on average 16,000 complaints of professional misconduct by attorneys annually.
​
We conduct due diligence by researching and recommending the best local attorney for your case.
Our team of experts verify attorneys are in good standing and have the required experience in the type of law related to your legal issue.
​
Learn more about attorney discipline here:
Our History
Since 2005, we have assisted people who need legal representation but whose ability to locate reputable California Lawyers is frustrated by unreliable law firm marketing of self-promoting lawyers and biased legal advertising. ​
​
How the LRS Works

Anyone seeking competent and honest legal representation in California, can request a FREE lawyer referral.
​
Once you submit your case details online, our legal 24-hour legal department will review your claim and reply via email. Most cases are reviewed and answered within 15 minutes.
A free 30 minute consultation with the attorney will be offered to each referred client.
​
A representative will follow up a few days later via email with the client after receiving a referral for quality management purposes, or to obtain the status of the case.
​
About lawyers from our network

California lawyers in our network are insured, in good standing with the California State Bar, and have substantial experience in their practice area.
Attorneys are available in most areas of law throughout Southern California. Every lawyer in or network has been vetted for:
​
Credentials

Education

Communication skills

Performance

Client reviews

Fair legal fees

Continuing education

Professional affiliations
​
Additionally, we conduct criminal background checks and attorneys are always monitored by our service.
​
How to find the best lawyer for your legal case:
​
1. The fastest way to have your legal issue reviewed by one of our attorneys is to send your details online.
Your information will go directly to our 24 hour legal department bypassing our call center. You will get a reply via email within 15 minutes.
​
2. You may also inquire about your legal issue via chat where you can get more information related to different areas of law that apply to your case.
​
3. By calling our lawyer referral hotline 661-310-7999. However, our agents are not attorneys and cannot provide legal advice. Due to high call volumes, it's highly recommended that you use option # 1 above.