Open 24 Hours.
Get An Answer Within 15 Minutes.
Affordable And Fair Legal Fees. Payments Plans Also Available
Lawyer Referrals Available For Most Areas Of Law In California
We'll Find The Best Local California Attorney For Your Legal Case
San Diego Legal Resources
​
Central Division
1100 Union Street, San Diego, CA 92101
Hall of Justice 330 W Broadway
San Diego, CA 92101
​
Adoptions: See Juvenile Court
Americans with Disabilities Act Coordinator: 619-844-2253
Appeals - Unlimited Civil and Felony: 619-844-2348
Arbitration/Mediation: 619-450-7478
Central Records: 619-844-2761
Civil Business Office: 619-450-7275
Civil Law & Motion Tentative Rulings: 619-450-7381
Community Outreach: 619-844-2322
Criminal - Felonies and Misdemeanors: 619-844-2400
Criminal - Fine Payment: 619-450-7034
Domestic Violence & Criminal Protective Orders: 619-844-2400
Domestic Violence Restraining Orders See Family Court
Civil Restraining Orders: See Civil Court
Executive Office: 619-844-2500
Family Court Services: See Family Court
Family Law Facilitator: 619-844-2200
Family Support Division: 619-844-2799
Grand Jury: 619-236-2020
Judicial Council Coordinated Proceedings: 619-844-2366
Jury Services: 619-844-2800
Juvenile: See Juvenile Court
Mediation - Civil: 619-450-7478
Probate: See Probate Court
Public Affairs 619-844-2353
Small Claims Advisor Information Line: 858-634-1900
Small Claims Advisor: 858-634-1777
Small Claims Appeals: 858-634-1919
Small Claims Information: 858-634-1919
Substance Abuse Assessment Unit: 619-844-2454
Traffic - Minor Offenses: See Kearny Mesa Branch
Unlawful Detainers - Limited Civil: 619-450-7275
Volunteer Program: 619-844-2323
Warrants: 858-974-2110
​
Civil Court
Hall of Justice
330 W. Broadway, Room 225
San Diego, CA 92101
8:30 a.m. to 4:00 p.m.
Monday through Friday
(619) 450-7275

East County Regional Center
250 East Main Street
El Cajon, CA 92020
RESTRAINING ORDERS ONLY
8:30 a.m. to 4:00 p.m.
Monday through Friday
(619) 456-4100

North County Regional Center
325 South Melrose Drive
Vista, CA 92081
8:30 a.m. to 4:00 p.m.
Monday through Friday
(760) 201-8600

South County Regional Center
500 3rd Avenue, 3rd Floor
Chula Vista, CA 91910
RESTRAINING ORDERS ONLY
8:30 a.m. to 4:00 p.m.
Monday through Friday
(619) 746-6200
​
Family Law Court -
1100 Union Street,
San Diego, CA 92101
Department
Telephone Number
Business Office 619-844-2777
Domestic Violence Restraining Orders - Family 619-844-2225
Family Court Services 619-844-2888
Family Law Facilitator Information Line 619-844-2200
Juvenile Court
2851 Meadow Lark Drive
San Diego, CA 92123
Department Telephone Number
Adoptions 858-634-1671
Business Office & General Information 858-634-1600
Traffic Minor Offense- Juvenile 858-634-1616
Kearny Mesa Branch
8950 Clairemont Mesa Blvd.
San Diego, CA 92123
Department Telephone Number
Traffic - Minor Offense 858-634-1800
Probate Court -
1100 Union Street,
San Diego, CA 92101
Department Telephone Number
Probate 619-844-2676
North County Division -
325 South Melrose Drive
Vista, CA 92081
Department Telephone Number
Civil 760-201-8600
Criminal 760-201-8600
Domestic Violence Restraining Orders 760-201-8600
Family Court Services 760-201-8300
Family Law 760-201-8600
Family Law Facilitator Information Line 760-201-8200
General Information 760-201-8600
Jury Services 760-201-8600
Juvenile Dependency 760-201-8600
Juvenile Traffic 760-201-8600
Small Claims 760-201-8600
Substance Abuse Assessment Unit 760-201-8600
Traffic - Minor Offenses 760-201-8500
East County Division -
250 East Main Street
El Cajon, CA 92020
Department Telephone Number
Restraining Orders 619-456-4100
Criminal 619-456-4100
Domestic Violence Restraining Order 619-456-4100
Family Law 619-456-4100
Family Law Facilitator Information Line 619-844-2200
General Information 619-456-4100
Jury Services 619-456-4198
Juvenile Dependency 619-456-4238
Juvenile Traffic 619-456-4100
Substance Abuse Assessment Unit 619-456-4194
Traffic - Minor Offenses 619-456-4100
South County Division -
500 3rd Avenue
Chula Vista, CA 91910
Department Telephone Number
Criminal 619-746-6200
Domestic Violence Restraining Orders 619-746-6200
Family Court Services 619-746-6097
Family Law 619-746-6200
Family Law Facilitator Information Line 619-844-2200
General Information 619-746-6200
Jury Services 619-746-6265
Juvenile Dependency 619-746-6200
Juvenile Traffic 619-746-6200
Substance Abuse Assessment Unit 619-746-6419
Traffic - Minor Offenses 619-746-6200
​
Get Referred To The

Best Attorneys In San Diego

!
There are a lot of lawyers in California. However, not all of them will have the expertise to handle your specific case. Unfortunately, many attorneys have also been disciplined by the State Bar for illegal or malicious conduct.
That said, legal claims are urgent, so you might not have the time to sift through the many lawyers in San Diego or California.
The best way to speed up the California Attorney Search process is to get referrals. This way, you don't have to spend too long looking for the most experienced lawyer or the best law firm in San Diego for you. With a referral, you can start working with a prescreened San Diego Lawyer in minutes!
Why Hire Top Attorneys In San Diego?
Our top lawyers in San Diego are prescreened for their experience and track records, then matched up to each client depending on the unique aspects of their case.
Here are some areas of law our top attorneys in San Diego have extensive experience in:
​
We have a diverse roster of lawyers that can help you—whether you're looking for an experienced estate lawyer or the best construction accident lawyer in San Diego.
Get In Touch With The Best Lawyers in San Diego Right Now!
Need to talk to a California lawyer ASAP? Complete our case review form to get started!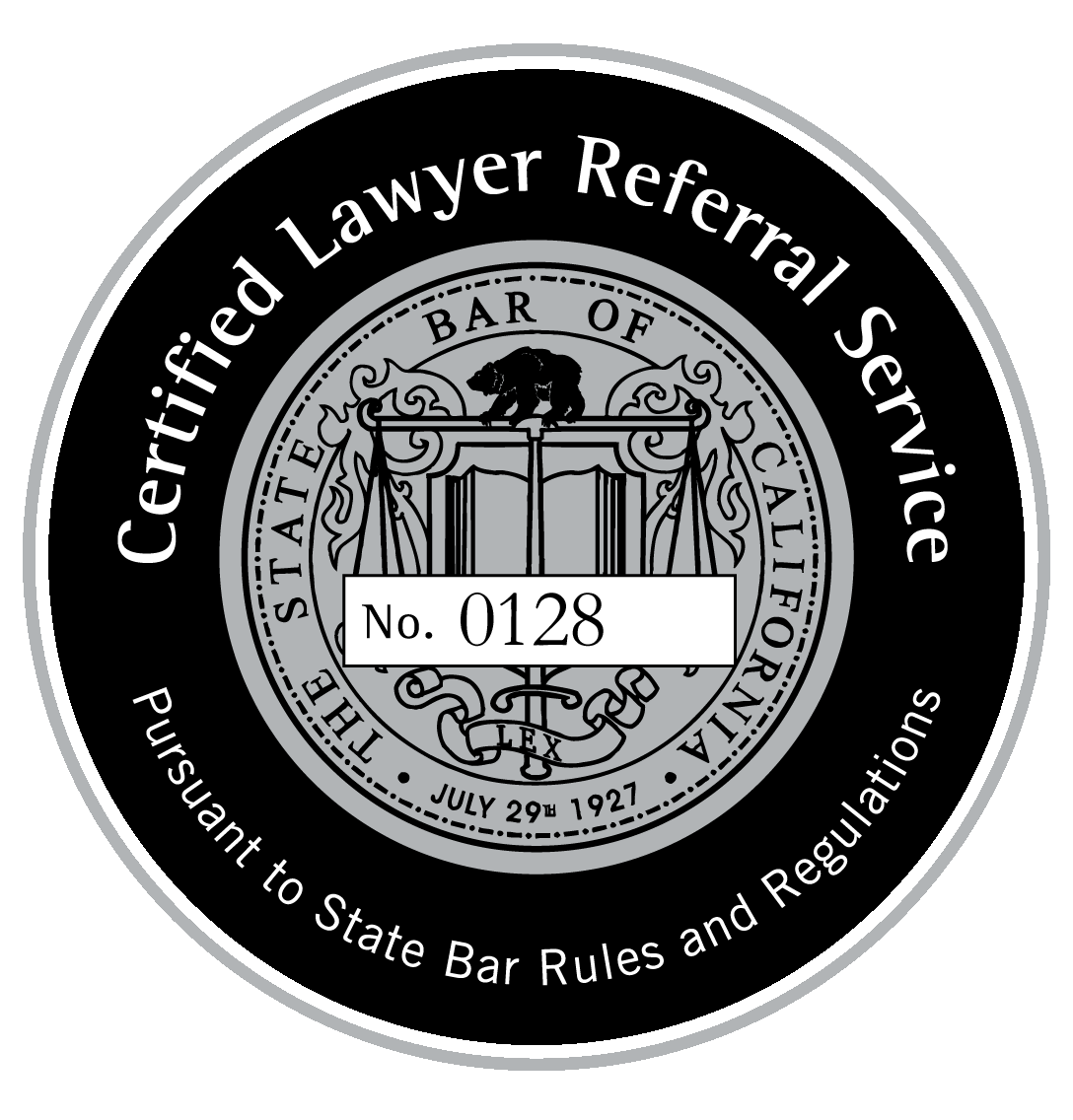 California State Bar Certified San Diego Lawyer Referral Service
1000Attorneys.com is a California State Bar Certified and approved Lawyer Referral and Information Service.
​
We provide unbiased and impartial lawyer referrals. This service isn't owned nor operated by lawyers receiving. referrals.
Our objective is that you receive the best comprehensive, high-quality legal representation while holding California attorneys to the highest standards of professional conduct.​​
​
Why Lawyer Referrals Matter
The California State Bar investigates on average 16,000 complaints of professional misconduct by attorneys annually.
​
We conduct due diligence by researching and recommending the best local attorney for your case.
Our team of experts verify attorneys are in good standing and have the required experience in the type of law related to your legal issue.
​
Learn more about attorney discipline here:
Our History
Since 2005, we have assisted people who need legal representation but whose ability to locate reputable California Lawyers is frustrated by unreliable law firm marketing of self-promoting lawyers and biased legal advertising. ​
​
How the LRS Works

Anyone seeking competent and honest legal representation in California, can request a FREE lawyer referral.
​
Once you submit your case details online, our legal 24-hour legal department will review your claim and reply via email. Most cases are reviewed and answered within 15 minutes.
A free 30 minute consultation with the attorney will be offered to each referred client.
​
A representative will follow up a few days later via email with the client after receiving a referral for quality management purposes, or to obtain the status of the case.
​
About lawyers from our network

California lawyers in our network are insured, in good standing with the California State Bar, and have substantial experience in their practice area.
Attorneys are available in most areas of law throughout Southern California. Every lawyer in or network has been vetted for:
​
Credentials

Education

Communication skills

Performance

Client reviews

Fair legal fees

Continuing education

Professional affiliations
​
Additionally, we conduct criminal background checks and attorneys are always monitored by our service.
​
How to find the best lawyer for your legal case:
​
1. The fastest way to have your legal issue reviewed by one of our attorneys is to send your details online.
Your information will go directly to our 24 hour legal department bypassing our call center. You will get a reply via email within 15 minutes.
​
2. You may also inquire about your legal issue via chat where you can get more information related to different areas of law that apply to your case.
​
3. By calling our lawyer referral hotline 661-310-7999. However, our agents are not attorneys and cannot provide legal advice. Due to high call volumes, it's highly recommended that you use option # 1 above.