>Why is important to hire
pre-screened California
estate planning attorneys.
Everyone in California has an estate. An estate is all that you own by definition, which includes all land, cars, jewelry, stocks, and assets. Though easy in principle, what happens when you die? Who's going to receive your assets?
This is where it comes to an estate plan. An estate plan, which contains legal documents that contain guidance, helps you to provide for the future of your family upon your death.
​
This process of preparation can be a daunting, mental, and stressful one. Although it's best to consult with a California estate planning lawyer to ensure that all problems are properly handled and sound decisions are made about your proposal, this guide highlights what a California estate planning lawyer can do for you.
​
A California estate planning attorney, also known as an estate law attorney or probate attorney, assists with the process of estate planning by writing down the wishes for disability and death.
This counsel will understand the right documentation to use and will propose alternatives to ensure that your objectives are properly carried out.
​
In addition, an attorney for estate law would have knowledge of state and federal laws that may influence how your estate is inventoried, valued, distributed, and taxed upon your death and will inform you adequately if that happens regarding the probate process.
GET AN ANSWER WITHIN 15 MIN.
Wrongful Termination Lawyers Referrals
​
Los Angeles Wrongful Termination Lawyer Referral & Information Service. A Service Approved & Certified By The California State Bar.
​
Submit your wrongful termination claim online 24 hours a day. You'll get an answer within minutes about your legal claim and an unbiased referral to a pre-screened California wrongful termination attorney near your location for a FREE question and answer session.
Employees in any city of California including Los Angeles who are wrongfully terminated from their position in violation of an employment contract, for any type of discrimination reason, or for exercising their legal rights may have a wrongful termination claim.
In California, most employees work at will, this means their supervisor or manager may terminate their employment, with or without notice.
However, the state of California has created a number of illegal situations where an employer cannot fire an employee. An experienced wrongful termination attorney in Los Angeles can analyze all details of your wrongful termination claim to find out if you can be compensated from damages.
If you have an employment contract that clearly states you will be working for a certain length of time, or that limits your employer's ability to fire you, your employer must comply by the terms and conditions of such contract.
If your employer terminates your employment in violation of such terms, most likely you have a very strong claim for wrongful termination against your employer and you can immediately file a lawsuit in the Los Angeles court system. It's important to find a wrongful termination lawyer who knows the Los Angeles court ecosystem and has experienced in wrongful termination case in Los Angeles.
​
1000Attorneys.com is a California Bar Certified lawyer referral and information service and you can benefit from our vetting process to find experienced and reputable wrongful termination lawyers in Los Angeles for FREE.
An employment contract in California may be executed in writing or in some cases an oral agreement. An employment contract may also be implied, which means that even if there's no formal agreement certain actions or statements by your employer are sufficient to establish a contractual responsibility. If your employer acts or deliberately violates any statement, you may be able to file a lawsuit for wages, benefits, and any other awards or compensations you should have received.
In California, an employer cannot fire an employee based on certain protected characteristics such as race, color, ethnicity, religious beliefs, gender (including pregnancy or maternity leave), age, disability, medical information, sexual orientation, gender identity, citizenship status, marital status, AIDS/HIV status, medical condition, FMLA, political beliefs or activities, military status, or status as a victim of domestic violence, stalking, or assault.
If you were fired from your job because of ANY of the situations above, you may have a strong wrongful termination case in Los Angeles and you should immediately consult with a reputable and experienced Los Angeles wrongful termination attorney from our network.
If you win a wrongful termination lawsuit in California, your employer can be forced to pay not only your lost wages and benefits, but also your legal fees, court costs, emotional distress, and in some cases punitive damages. Including in the compensation you receive are legal fees which means there is not up money costs to you in order to hire the best Los Angeles employment lawyer.
​
California employers cannot terminate an employee for defending his or her employment rights. Common situations we have encountered in the past are:
You may not be fired for filing a complaint of discrimination or harassment.

For requesting or taking family and medical leave.

Taking time off to serve on a jury duty.

Filing a workers' compensation claim, or

For filing a complaint about illegal wage and hour practices (such as unpaid overtime or illegal tip-sharing arrangements).
Most employees are unaware that California is perhaps the state that has the most restrictions for employers when it comes to fire someone, which means there are many potential situations for retaliation claims.
If you were fired from your job because you filed a complaint or for exercising a right granted by law, you must submit a California wrongful termination claim immediately to one of our pre-screened employment lawyers.
The compensation you may receive as a result of a wrongful termination lawsuit depends on the specifics of your situation. During a personal and confidential interview, the attorney who has extensive experience in California wrongful termination cases will be able to assess your case and advise you on how to proceed taking into account what law was violated.
​
What are my rights as an employee in California?
​
California is a condition of work at-will. This means that employers in Los Angeles and across California may fire an employee for any cause and at any time without a contract, arrangement, or an exception to a law or regulation. Where uncertainty sets in, the last part is.
Employees assume that it doesn't matter whether the employer does so because you just advised your supervisor that you are pregnant or because you are of Mexican descent and your boss wants a wall constructed and sent back to Mexico for all Mexicans, that an employer can fire them for any reason and at any moment.
​
But it matters. To a certain degree, the right to fire someone at any time is restricted. You are shielded from termination based on your status in a protected class when you belong to any of the above-protected classes. If you are a whistleblower or are concerned about unpaid salaries, unsafe health and safety conditions, or violations of the Labor Code, you are still covered.
All workers have these safeguards at their disposal, including:
​
Employees paid by the hour

Salaried workers

Employees on contract.
​
By California law, employers are expected to take the appropriate measures to avoid discrimination and abuse. Under Cal Gov Code § 12940 and confirmed in Trujillo v. North County Transit Dist., (1998) 63 Cal., to fail to do so. App. App. 4th 280, 286, means the employer engages in the practice of unlawful work.
California employees who have been wrongfully terminated have several remedies available. Remedies that could be at your disposal include:
​
Lost wages (back pay)

Lost future wages (front pay)

Reincorporation (if terminated) or recruitment (if not hired)

Promotion (if refused on the grounds of prejudice against you)

Expenses from out-of-pocket

Changes to regulations (if prejudice is based on a policy)

Education (to teach employers and workers about unfair termination)

Fair accommodations (in situations where prejudice is focused on a medical condition, for example)

Emotional damage (emotional distress is traumatic in itself, but it can also lead to a host of health problems)

Punitive compensation (when the discrimination is too gross)

Legal fees and costs.
​
​
In Los Angeles, how wrongful termination lawsuits are carried out depends largely on the form of wrongful termination. If the unfair termination claim is focused on discrimination, intimidation, or retribution, then the California Department of Equal Employment and Housing (DFEH) will likely have to file a pre-complaint investigation. Via this submission, you may request the DFEH:
​
Investigate the argument and overcome it; or

Issuing a right of notice to sue, which requires you to put your case to court.
If a breach of contract or breach of public policy is the product of your wrongful termination argument, you can file your case directly with the proper state court in Los Angeles, usually a Superior Court in Los Angeles.
Until the lawsuit is filed in the proper court, the case must be served on the employer and any other adverse party in compliance with the California Rules of Civil Procedure.
In court, this begins the claim process, and the employer may have an opportunity to respond to the allegation. Hearings will be set up and the discovery process will allow you and your wrongful termination lawyer to subpoena the employer for some paperwork and admissions. The same incentive will be granted to the employer.
​
If an agreement is not found, then the case will go to trial. It all depends on the facts and conditions, and in certain situations, the trial will deliver a better result than a settlement. However, in a courtroom, there are still uncertainties, since a jury can be unpredictable. Consulting with the best employment attorney in California on the right choices for you is always best.
​
​
You typically have to file a wrongful termination lawsuit within two years. However, for wrongful termination in California, the statute of limitations varies according to the form of case filed.
​
If you have been wrongfully dismissed because of prejudice based on a protected class or have been threatened and the lawsuit is lodged at the DFEH, you have one year from the date of termination.

If the DFEH has not settled the lawsuit or given a right to sue notice, you have 90 days from the date the DFEH made a decision to file a complaint with a state court.

If you were wrongfully terminated in breach of public policy where you engaged in a protected activity ( e.g. filing a lawsuit with the Equal Employment Opportunities Commission, which is a protected act), you have twenty four months from the date of termination.
​
If an oral or implicit contract has been broken, you have two years.

If a formal contract has been broken, you have four years.
Your California wrongful termination lawsuit will be dismissed if you fail to file within the proper statute of limitations. You may be eligible for an exemption only if there are extenuating or significant circumstances. It is necessary to locate an experienced attorney in Los Angeles who can ensure that you file in a timely manner.
​
​
What you need to prove in order to win your wrongful termination depends on what your experience of wrongful termination was. You're going to have to demonstrate:

There was an employment relationship; and

Your manager has dismissed you; or;

You have been forced to leave, and

Termination or constructive termination has been performed wrongly.

You must establish that you are a member of a protected class in cases of discrimination and that the latter was consequential to the termination.
You must indicate that you have been dismissed for one of the following reasons in public policy breach cases:
​
Report of a legislative breach (which the public gains from reporting);

Refusing to break a statute;

Fulfillment of a statutory duty; or

Execution of a civil right.
In harassment cases, you must establish that you have been dismissed because of a harassment complaint. You must prove that the termination was due to a violation of the contract in infringement of contract proceedings.
How you prove your particular case will rely on the circumstances and evidence, and the type of case, as noted above. It is necessary to maintain records, including names of relevant persons and copies of relevant documents, of what is or has happened in the workplace.
​
In California, wrongful termination claims may be complicated. Often, simply not knowing what to do or where to go is the first error. Your best choice is to find a pre-screened experienced attorney in employment law to help direct you through the process and ensure that each step of the way is aware.
​
Conduct due diligence! Most likely, you'll find hundreds of ads and posts from wrongful termination lawyers in California who claim they are experienced and reliable. Every year, there are thousands of complaints filed against attorneys for ethical misconduct. Make the right decision from the start, get a lawyer referral.
Your pre-screened wrongful termination lawyer will ensure that you follow the proper process with your particular case, sometimes your wrongful termination claim may not go directly to court. Any mistake can jeopardize the outcome of your claim, working with the right and top-rated California employment lawyer can make a big difference.
​
​
How do I find the best wrongful termination lawyer near me?
Don't rely on attorney marketing, conduct due diligence or request a referral to a pre-screened California wrongful termination lawyer by contacting an accredited lawyer referral service.
​
Is wrongful termination hard to prove?
In California employment discrimination and wrongful termination cases are sometimes difficult to win because the employee must prove that the employer violated local and federal employment laws (i.e. the employee was fired because of his skin color, sex, pregnancy, national origin, etc.)

What is the average payout for wrongful termination?
The average settlement for wrongful termination cases in Los Angeles is around $40,000, the average value of a court verdict in wrongful termination cases is sometimes larger, around $45,000 to $50,000. Your settlement amount largely depends on how you can prove your wrongful termination claim and how well you are being represented in court.

What should I do immediately after being fired?
1. Gather evidence, document everything and ask the right questions.
2. Document everything.
3. Check your unemployment benefits.
4. If you believe you've been wrongfully terminated, consult with a lawyer.
5. Work on your resume and set google job alerts.

Can you get your job back after wrongful termination?
Your employer may be ordered to reinstate your position from the court after a wrongful termination lawsuit, but if you feel uncomfortable, you can deny a return. Typically, the ability to get your job back will be entirely up to you if the court orders reinstatement as a remedy.

What are wrongful termination examples?
​

How long do wrongful termination cases take?
From the filing of the Complaint to a jury verdict can take anywhere from 12 to 16 months in federal court. It can take anywhere from 12 to 20 months in state court. Many times employers will try to settle out of court which cuts down on the time it takes to reach an agreement.

What qualifies as wrongful dismissal?
Wrongful dismissal occurs most commonly where an employer dismisses an employee without notice or with insufficient notice under their contract of employment.

What counts as wrongful dismissal?
Wrongful dismissal is a breach of contract by the employer. It occurs when an employee is dismissed from their employment without notice, or the correct amount of notice in accordance with their contract. It also occurs when employment is terminated in breach of the terms of the contract.

What happens in a wrongful termination suit?
California wrongful termination cases are civil lawsuits. If you file a civil wrongful termination lawsuit, you are asking the court to order your former employer to to compensate you for losses and damages caused by the wrongful termination.

Can employers check if you got fired?
There are no federal laws restricting what information an employer can - or cannot - disclose about former employees. If you were fired or terminated from employment, the company can say so. Because most employers are concern about lawsuits, most employers will only confirm dates of employment, your position, and salary.

Is it better to quit or get fired?
If you are being harassed at work and want to quit, consult with a California employment lawyer first.

Is Terminated the same as fired?
Being fired means that your company ended your employment for reasons specific to you. This is also be referred to as "terminated" by some employers. Getting laid off is something different, and means that the company eliminated your position financial or for strategic reasons.

What does job termination mean?
Termination of employment refers to the end of an employee's work with a company. Termination may be voluntary, as when a worker leaves of their own accord, or involuntary, in the case of a company downsize or layoff, or if an employee is fired.

Can a union employee be laid off?
Union employees can only be terminated for "just cause," and the misconduct must be serious enough to justify such action. Before a union employee can actually be terminated, he or she can go through a grievance procedure, and/or arbitration.

What is termination with cause?
In general, to be terminated for cause, a contract should indicate that an employee must do something (or fail to do something) that causes harm (or risks harm) to the employer, and that violates a company rule or a state or federal law.

How do I know if I am wrongfully terminated?
You know you are wrongfully terminated when your employer violated written or implied promises. Also, you know you were wrongfully terminated when your employer singled you out and discriminated against you in violation of state and federal workplace discrimination laws.

How can I prove I was wrongfully terminated?
To prove wrongful termination in California, you must prove that the employer's reason is false and that the real reason you were terminated from your employment is an illegal one.

What is a good settlement for wrongful termination?
The average amount of compensation awarded in wrongful termination settlements varies widely, but some wrongful termination cases in California settle for as low as $5,000 to $80,000 (or more)

What are the 5 fair reasons for dismissal?
The "causes" that are grounds for legal termination include: illegal activity such as stealing or revealing trade secrets, dishonesty, breaking company rules, harassing or disrupting other workers, insubordination, excessive unexcused absences, and poor job performance by some objective measure.
​
Articles related to California wrongful termination claims:
​

​
Everything you need to know about California workers compensation claims (2021 Guide For Employees)
Gender discrimination in the workplace
How do I prove age discrimination at work?
Disability discrimination in the workplace, a guide for employees
Discrimination against pregnant employees, how to report it
​
Sexual harassment at work and the #metoo movement
​
California employee rights 2022
​
Wrongful termination laws 2022
​
​
Genetic information discrimination
​
Filing a claim with the Equal Employment Opportunity Commission (EEOC)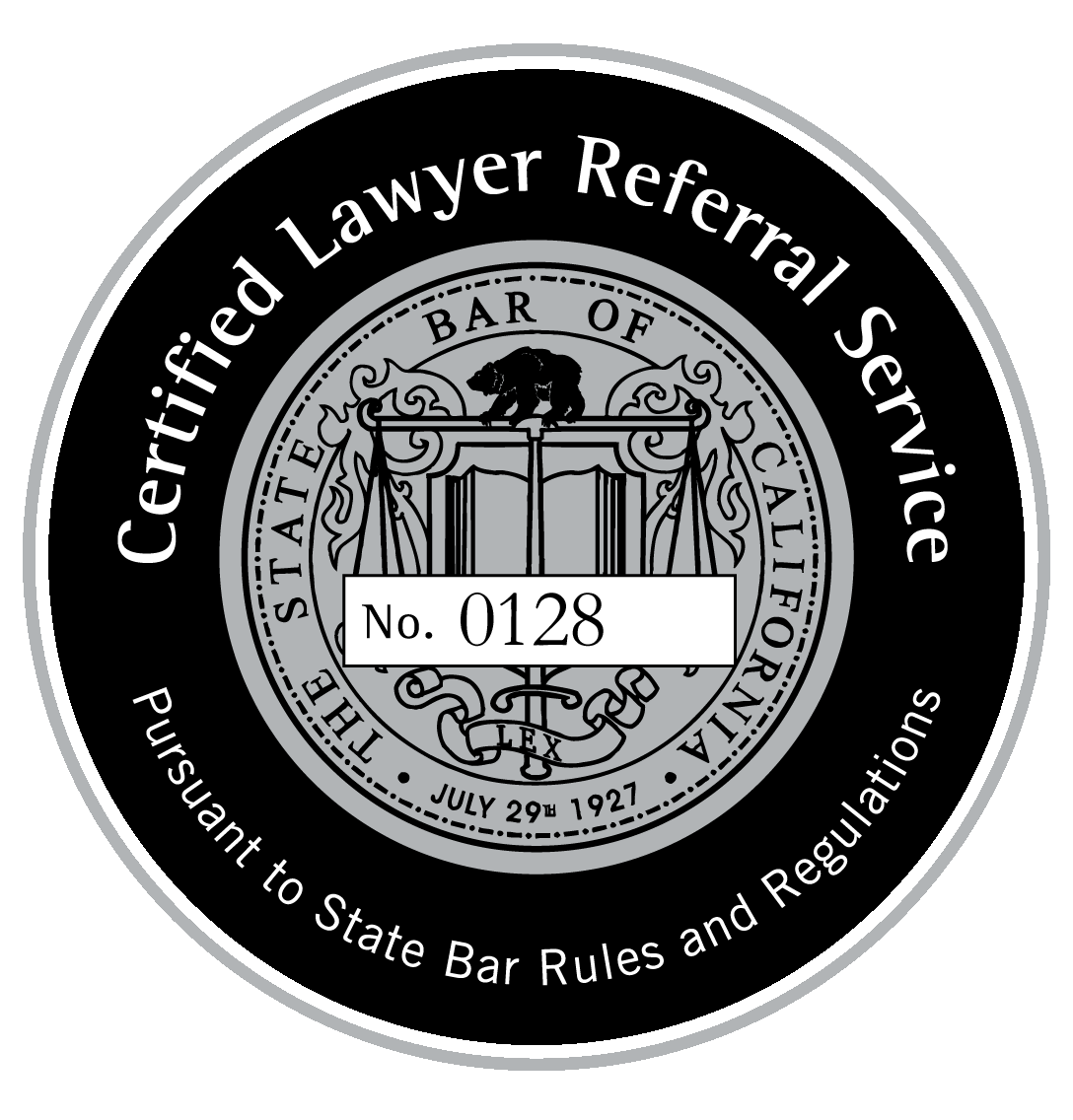 California Lawyer Referral And Information Service
​
1000Attorneys.com is a California Bar Certified Lawyer Referral and Information Service.
This is a public service that helps members of the public find competent, and honest employment lawyers who specialize in California wrongful termination claims.
Accessing information via our site is FREE and there is no charge to get a referral to a pre-screened California employment attorney or for personal legal consultations.
​
Why You Need To Hire
​
​
​
​
The California State Bar investigates in average 16,000 complaints of professional misconduct by attorneys every year.
​
We conduct due diligence by verifying experience, credentials, professional responsibility, and ethical standards.
We also run criminal background checks on every lawyer. Visit our

attorney discipline

section for more information.
​
Independent Contractor vs.
an Employee in California
​
The IRS has created a checklist to differentiate between an independent contractor and a full-time contractor, according to California labor law. To avoid any dispute between employee or contractor distinctions, understand this list.
Section 3353 of the California Labor Code describes an independent contractor as a "individual who provides service for a specified payment for a specified outcome, under the supervision of his principal only as a consequence of his job and not as to the means by which that outcome is achieved." However the label itself is not dispositive of the relationship of the parties.
In order to decide if the worker is an employee versus an independent contractor, both the Internal Revenue Service (IRS) and the State of California have vigorously scrutinized the classification of a worker by a corporation during the past few years. California placed tougher fines and penalties for employers who misclassify their workers in January 2012.
Under California labor law, the implementation of the factors found in the common law of California or the employment and contractual provisions of the California Unemployment Insurance Code depends on whether an individual is a regular employee or an independent contractor.
The basic test for deciding if a worker is an independent contractor versus an employee is according to California labor law, if the principal has the right to guide and monitor the way and means by which the job is done. If it is unclear to the employer if the worker or the employer has the right to control, the employer should evaluate and examine a list of secondary factors.
​
>

Laws Governing Wrongful Termination Cases In California
Based on some conditions, several laws prevent termination. Federal, state, and local laws contain these. Among the federal acts that are applicable are:
​
Title VII of the Civil Rights Act of 1964
This federal act prohibits discrimination based on race, color, faith, national origin, or sex. The Equal Employment Opportunity Commission ruled that the prohibition of discrimination on the grounds of discrimination was forbidden.
Sex refers to cases of sexual harassment, individuals who are discriminated against because they do not fit in with those gender roles, transgender people, and others who are discriminated against because of their sexual identity in circumstances where people are discriminated against. For employers with 15 or more workers, Title VII applies.
​
Americans with Disabilities Act
This act forbids firing workers because of their disability, whether, with or without fair accommodation, they can perform the fundamental job functions.
When an employee is impaired and tells his or her employer of the need for suitable accommodation, the employer should offer reasonable accommodation.
The employer is not expected to make the employee's exact request, but the accommodation should be fairly related to solving the issue faced by the disabled person.
Age Discrimination in Employment Act
In certain cases, this federal statute forbids discrimination against jobs who are 40 years of age or older. If age is a bona fide work requirement that is fairly appropriate for the company's routine activity, an employee may use the age of a worker as the basis for firing him or her.
​
Pregnancy Discrimination Act
​
This federal legislation makes it illegal for an employer to fire an employee due to pregnancy, childbirth, or pregnancy-related medical conditions. Also, for as long as they are willing to do so, pregnant women must be allowed to work.
​
Genetic Information Nondiscrimination Act
Because of their genetic records or family medical background, this federal act forbids discrimination and the firing of jobs.
​
It is reasonable for you to doubt whether your discharge was illegal if you were dismissed from your job in California.
In this respect, to determine whether or not you were dismissed unfairly, you should be mindful of your rights under unfair termination laws.
​
California Fair Employment and Housing Act
In some of the same grounds as federal law provides, this state law forbids discrimination. One key difference is that employers with five or more workers are covered by the California Equal Jobs and Housing Act, so those persons who are not protected by Title VII will be protected by state law.
​
Cases Involving Harassment
Title VII and the FEHA protect workers who are dismissed because they have refused to perform sexual favors as a condition of employment or have been effectively forced out of their job because of the abuse caused by the level of animosity in the workplace. Such an atmosphere is created when abuse is so serious and widespread that a rational individual can not accept it.
Whistleblowers
Federal and state whistleblowing regulations shield workers from retaliation if their employer has dismissed them after disclosing such wrongdoing or criminal behavior.
If an employee has made a complaint, engaged in an investigation, or participated in other protected activities as defined by state or federal law in order to report his or her employer's illegal acts, he or she may file a lawsuit for unfair termination based on the same laws.
Likewise, if he or she has been fired for refusing to participate in criminal activity, an employee will file such a suit.
Find a Reputable Employment Lawyer Now!
1000Attorneys.com is a
California Bar Certified Lawyer
Lawyer Referral Service.
Attorneys are pre-screened, monitored and certified in California Employment Law and wrongful termination.
Lawyer referrals and personal legal consultations are FREE.