California

Car Accident Injury

Law.
Find The Best Lawyers Near Los Angeles.
Submit your case for review 24/7 and get an answer within 15 minutes.
Los Angeles Car Accident Lawyer Search
If you have been injured in a car accident in California, it's important to understand your legal options. You may be eligible to receive financial compensation for your injuries and any damage that your vehicle sustained in a car accident. Our Los Angeles car accident lawyers are well versed in personal injury as a result of a car accident in Los Angeles County courts.
AM I ELIGIBLE FOR COMPENSATION?
While there can be many different circumstances that cause a car accident, when filing for a compensation claim you will need to meet two primary criteria to help validate your claim:
The car accident was caused (completely or in part) by the negligence of the other party
​
The car accident was the cause of your injuries
​
Personal injury attorneys at 1000Attorneys.com have decades of experience and can help to review the specifics of your car accident in great detail. Our goal is to build a strong argument for your damages claim and to obtain the maximum amount of compensation you rightfully deserve.
INSURANCE COMPANIES AND YOUR INJURY
In most serious injury cases, the insurance company of the at-fault motorist will send out an appraiser to assess the damages and determine a value for those damages.
It is VERY IMPORTANT to remember that these investigators are NOT there to look after your interests but those of the insurance company. As highly skilled workers in their field, they are trained to obtain information from car accident victims when they are most vulnerable.
Our personal injury attorneys in Los Angeles are aware of the tricks and tactics that appraisers will use and can warn you in advance along with providing ways for you to handle their questions. Quite often, we will simply ask that all questions be referred to your legal team so that we can deal with them directly.
CALIFORNIA STATUTE OF LIMITATIONS FOR CAR ACCIDENTS
Based on the California Code of Civil Procedure section 335.1, in the state of California, there is a two-year statute of limitations for car accident claims.
This means that injury victims have up to two years from the date of their accident to file a damages lawsuit.
Shortly after your car accident, you may like to consider hiring a car accident lawyer in Los Angeles to help explain your legal options and to begin the process of filing a claim. There are a number of reasons for this:
It establishes a record for the incident.
​
In the event that the insurance company does not offer a fair and just settlement amount, your attorney can use the filing as leverage in the negotiations - knowing that they can take the case to court in an effort to obtain more compensation for your injuries &/or property damages.
​
Some insurance companies also have specific time frames that an insurance claim must be submitted. As time can pass quickly, having everything in order helps to prevent any last-minute issues should you need to pursue a compensation claim
Pre-Screened Car Accident Lawyers in California Can Make A Difference
​
How Would a Pre-Screened Car Lawyer Help Me With My Case?
A car accident lawyer would have a lot more in-depth knowledge of California laws and case law, including those relating to negligence, personal injuries, and personal injury insurance (PIP). Before the statute of limitations on the lawsuit expires, our California car accident attorneys know how to provide the required supporting evidence to show the at-fault party's responsibility.
​
Will a Car Lawyer Assist Me with Obtaining Compensation?
Our pre-screened car attorneys regularly assist clients with obtaining insurance settlements for accidents and losses sustained due to a traffic accident.
​
They know how insurance providers operate, what they want regarding the claim, and how to communicate with their adjusters and attorneys.
When an insurance agent wants to bargain in good faith or attempts to sell you a payout that does not sufficiently pay you for your losses, the best car accident lawyer in California will be able to counter offer and get you the maximum, amount.
​
What if the insurance company refuses to compensate you fairly?
To cut premiums, insurance providers also deliver low payments right after an accident. The best car accident lawyer in Los Angeles with good negotiating experience will force the insurance provider to agree to a deal that covers your medical expenses, compensates you for missed earnings, and protects your future needs.
Your counsel will assist you with filing a claim and pursuing your case in court if the insurance provider wants to provide a fair payout for your injury. You do not understand the insurance company's adjuster or attorneys' efforts to limit your payment if you want to bargain with them yourself.
​
Can a Car Lawyer Defend My Rights?
Our main goal is to safeguard your legal rights in the insurance claim period. The insurance company's attorneys can try to get you to provide a written statement in the hopes of invalidating your claim or minimizing the at-fault party's liability. Before issuing any claims or signing any papers, consult with a pre-screened and reputable California car accident attorney to ensure that you protect the right to pursue financial compensation.
​
How Can a Car Lawyer Aid in the Strengthening of My Claim?
The majority of injury accident claimants lack the tools required to create an actual lawsuit. Medical professionals, prosecutors, accident investigation technicians, and others will testify to the injury and the accident circumstances.
Having these tools will help you make a stronger case for the insurance provider. It will help you persuade a judge or jury if you have to go to court. We have a team of pre-screened legal professionals who can help you pursue a deal.
​
How Can a Car Accident Lawyer Determine the Value of My Claim?
You'll need a thorough understanding of California laws, case law, and the insurance industry to determine how much money to ask for while filing a lawsuit with the insurance provider.
You would now have explicit knowledge of the seriousness of your injuries, as well as how they can affect your fitness and potential ability to function. Our pre-screened car accident attorney in California can determine a reasonable amount on your lawsuit, taking into account non-economic costs such as pain and suffering, to ensure that all of your demands are met.
​
What More Would a Reputable Car Accident Lawyer Do for You?
Suppose you don't have health insurance or some means of paying for it. In that case, you might find it challenging to get the medication you need, particularly if your disabilities have rendered you unable to function.
​
We collaborate with an extensive network of physicians and treatment providers of all kinds familiar with your situation. Many of these professionals can offer emergency treatment and other assistance as you wait for the insurance settlement to be paid.
​
How can I get a free referral to an honest California car accident lawyer?
When you suffer severe physical injury in a car crash, you can face mental and psychological difficulties while you work to heal and get your life back on track. Attempting to overcome these obstacles on your own can be daunting.
​
Getting an experienced California personal injury lawyer by your side means you'll still have someone fighting for you and defending your civil rights. The lawyers for car accidents in California at 1000Attorneys.com will work tirelessly to answer all of your questions, clarify all of your options, and guarantee that you consider how your choices will impact your future.
Call us now at 661-310-7999 to hear more about how getting California's best car accident attorney by your side will help you. We will conduct a free case study to assist you with making the right decisions about your future.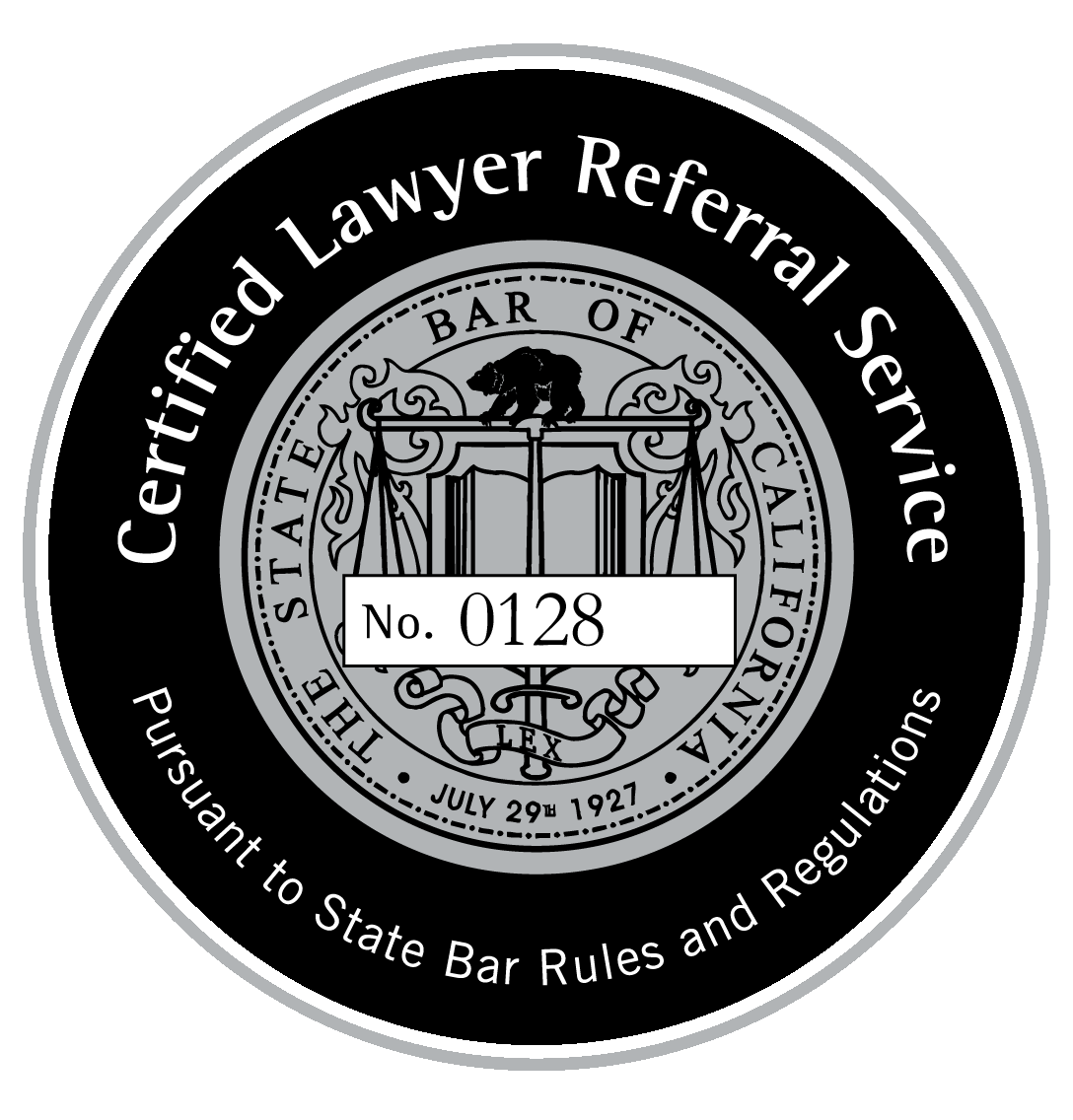 California Lawyer Referral And Information Service
​
1000Attorneys.com is a California Bar Certified Lawyer Referral and Information Service.
This is a public service that helps members of the public to find a competent and pre-screened personal injury lawyer and receive general knowledge about common legal issues.
Accessing information via our site is not expensive and there is no charge to get a referral to a California personal injury attorney or for personal legal consultations.
​
It's Important To Hire
Pre-Screened California Personal Injury Lawyers.
​
The California State Bar investigates in average 16,000 complaints of professional misconduct by attorneys every year.
​
We conduct due diligence by verifying experience, credentials, professional responsibility, and ethical standards.
We also run criminal background checks on every lawyer. Visit our

attorney discipline

section for more information.
Factors a Personal Injury
Lawyer in California considers
before taking a case.
​​
Every year, thousands of California drivers suffer traffic collisions.
Car accidents can leave drivers injured and unable to function, with costly medical bills.
You will be able to sue for damages if you have had an injury due to someone's negligence.
​
Your insurance policy and the other driver's insurance sometimes pay for the loss of your accident. Most times, the insurance provider can not want to pay what you deserve, leaving you physically and financially injured.
​
For physical injuries, collateral damage, and pain and suffering, a personal injury case may help you obtain money. Personal injury attorneys can't handle every case, though.
​
The Limitations Statute has passed.
​
The statute of limitations states that you have a limited period to file a personal injury case in California. Depending on the conditions of your accident, how long you have to file your accident case depends:
​
You should file a personal injury lawsuit within twenty four months of the accident's date for a personal injury lawsuit. Family members may file up to two years from the date of the person's death for wrongful death from accident injuries;
​
You must file a car damages case within three years of the date of the accident and For an injury caused by a government employee, within six months, you could file a complaint.
​
If once the personal injury statute of limitations expires, you contact a personal injury lawyer, then the lawyer will not take the case.

That is because the judge would dismiss a personal injury lawsuit brought beyond the statute of limitations. So if you feel the annoyance of No lawyer is going to take my case!" "Ask yourself if the limitations statute has expired.
​
Small changes to win your case VS litigation costs.
​
The attorney will discuss your legal options when you meet with a personal injury attorney for a consultation. The attorney will decide how much the case is worth in that process.
The attorney will inform you of a fair request for compensation, but you will have the final say on approving that settlement sum.
At the same time, the attorney will decide how much it will cost to litigate the case. Many personal injury lawsuits are subject to contingency litigation.
This implies that the law firm funds prosecution expense and is paid only when a favorable settlement or trial award is reached in your case.
​
You'll need to find the right firm if you're wondering how to get an attorney to take up your case.
Litigation costs can be too much for a small business when the case needs a thorough investigation and plenty of professional consultation.
It might not be a good fit for a big firm if you have a smaller case.
The attorney could refer you to a firm that is a better match for your case in either scenario.
​
​